Vaseema Arifuddin
Principal, ISNA Elementary School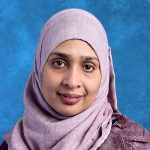 Ms. Vaseema has been a part of the ISNA Elementary family since 2007.
She completed her Bachelor of Education degree from the University of Toronto's Ontario Institute of Studies in Education (OISE) in 2009. Ms. Vaseema was appointed as Vice-Principal of ISNA Elementary School in 2016, and her team-based leadership philosophy promoted effective and open communication between all members of the ISNA family.
Ms. Vaseema holds a Bachelor's degree in Electronics and Communication Engineering along with a post-graduate diploma in Business Administration.
Her previous experience also includes teaching internationally in the Gems American Academy, Abu Dhabi. Ms. Vaseema also worked as a Biomedical Engineer in Oman and as a financial officer in TD and CIBC banks, before pursuing her 13 years career as an educator.
She looks forward to building relationships and being part of the growth and the success of the institution.